Listen to "Ep.16: Comics! #2 (The Chilling Adventures of Sabrina, Spell on Wheels & Black Monday Murders)" on Spreaker.
Hello and welcome back to the show! Today, we tackle our second comic book episode and we have some really good books for you to check out!
The Chilling Adventures of Sabrina
3.5 / 7.0
First up, is the Chilling Adventures of Sabrina published by Archie Comics and written by
Roberto Aguirre-Sacasa
with art by
Robert Hack
. Archie Comics has revamped their whole line of comic books and given all of your favorite characters from the past a makeover including Sabrina. Your mother's favorite teenage witch comic is now a juicy gothic horror story set in the 50s and 60s! With titles like Chilling Adventures of Sabrina and Afterlife with Archie, Archie Comics have created some of the best horror comics out there right now. Check out this
article
on the new evolution of the Archie brand in comics and TV.
EC Horror Comics of the 1950's was one of the inspirations for Sabrina, the
story
of how EC was destroyed by censorship is very interesting.
In the show, we talk about how Sabrina's cousin Ambrose was given two cobra familiars who were rescued from a snake cult in Bombay who were followers of the snake god
Glycon
. Our research on Glycon revealed that the great Alan Moore is a devotee of the
snake god
which we think is very fitting.
Our love-struck Sabrina uses a honey jar spell to get the boy she was crushing on to fall in love with her. Briana Saussy, practitioner of the Sacred Arts shows us how to make a
honey jar
with pictures!
Spell on Wheels
4.5 / 7.0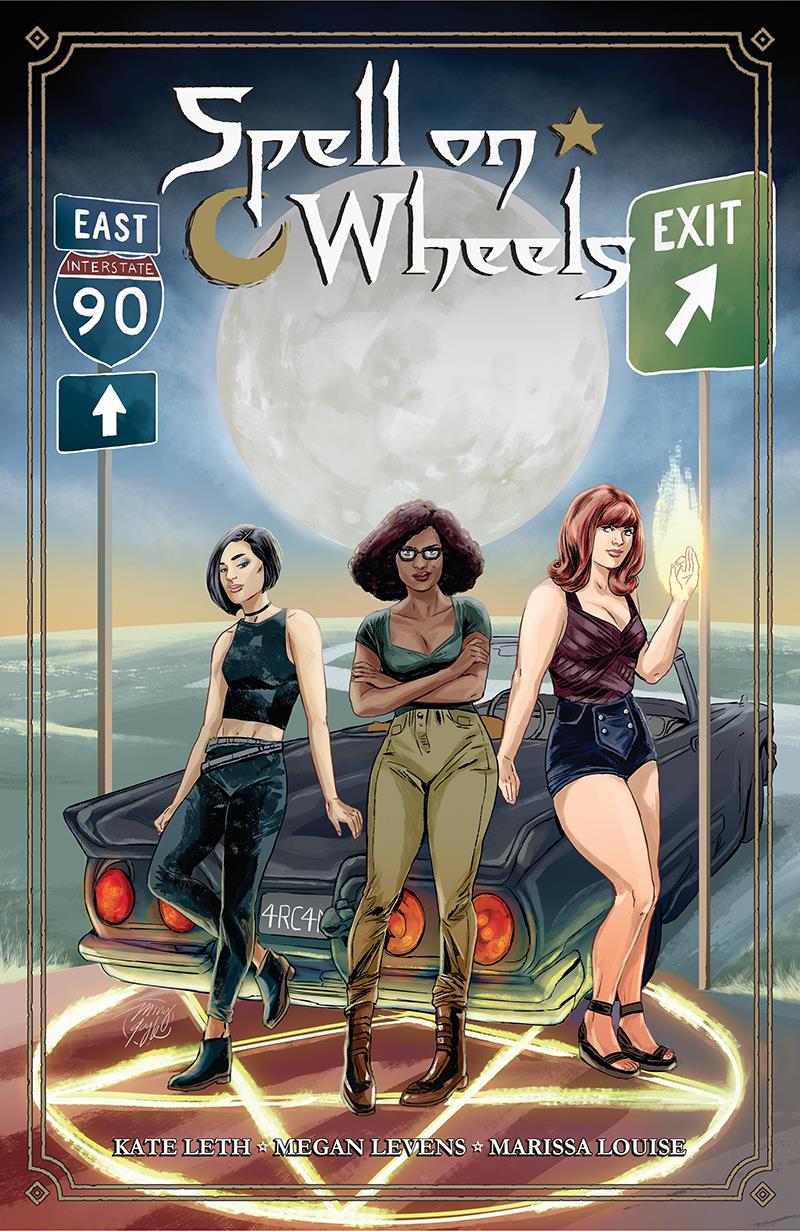 Spell on Wheels published by Dark Horse is the next comic book featured in the episode. This book is written by
Kate Leth
with art by
Megan Levens
. The book features a cool Goblin Marketplace which is basically a black market magical eBay! People have been dreaming about Goblin Markets for a very long time, some even wrote poetry about them like poet
Christina Rossetti
.
During their magical rode trip, our witches meet a lot of interesting characters but none more than the sexy Satyr Paul! Claire, one of the witches, recounts a legend about a goat boy which just so happens to be based on a real Maryland local legend about a
goat man
.
The young witches of Spell on Wheels use various methods of divination including the tarot, writing planchettes and seances.
Mysterious Planchette
is a site that provides a history of planchettes, a gallery, patents and other cool information. If the tarot is more to your liking, check out
Sacred Seed
, the wonderful and informative YouTube channel of tarot reader, collector and super tarot enthusiast Elle! The tarot blog of tarot reader and teacher extraordinaire
Mary K. Greer
is a must!
Black Monday Murders
5.0 / 7.0
Our last featured comic book is Black Monday Murders (BMM) published by Image Comics! Black Monday Murders is written by
Jonathan Hickman
and art by
Tomm Coker
. The book features some pretty nasty biblical angels and demons such as
Mammon
and
Abaddon
which seem tailor made for the financial world. Be sure to also read these insightful interviews with
Jonathan Hickman
and
Tomm Coker
about the story.
The book features an NYPD Detective who has a familial background steeped in Voudou. He is seen using an old divination system called "throwing the bones" that is practiced around the world. The Association of Independent Readers & Rootworkers explain this intriguing system of
divination
.
Black Monday Murders features a ton of blood magic and magical cannibalism. These folks literally consume their power!
The Magical Power of Cannibalism
is a great article on magical and ritual cannibalism.
Sigil magic plays a big part in the BMM story and art. Gordon White of Rune Soup wrote a wonderful blog post on how to get big magic from
sigils
.
Financial conspiracy theories are rampant in our culture and BMM certainly takes advantage of many of these theories including ones involving the
Rothschild family
.
Comic Recommendations
Lastly, we end the episode with comics to watch! We talk about several books that are currently available to read, some which are just beginning and a few that are forthcoming, these include:
Harrow County
,
Brutal Nature
,
Brutal Nature: Concrete Fury
,
American Gods: Shadow
s,
Songs for the Dead
,
Life, Death & Sorcery
,
Heathen
, and
The Circle
.
If you have any feedback or review suggestions, please contact us!
If you're liking the show, please follow us on social media and review us on iTunes.