Listen to "Ep. 20: What is a Witch" on Spreaker.
6.0/7.0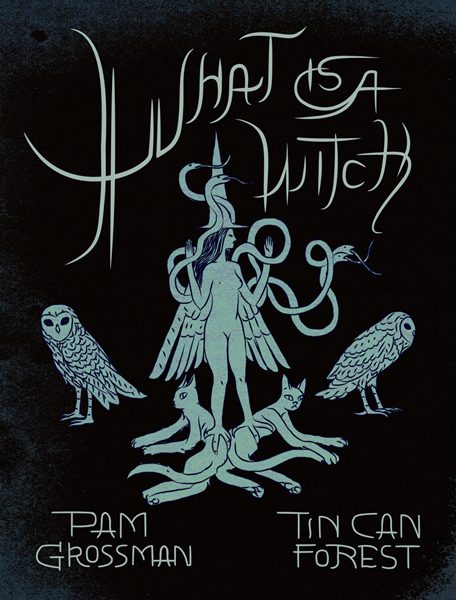 Hello My Lovelies! I'm excited to bring you my review of Pam Grossman and Tin Can Forest's book "What is a Witch". I hope you enjoy the episode as much as I did both reading and experiencing the book!
Pam Grossman's blog
Phantasmaphile
is a glorious aggregation of wonderful media featuring the occult and it is lovingly written by Pam. Please be sure to check it out along with Pam's professional
website
.
Pam wrote an essay called The Witching Hour. It's about witches in film and you can read it
here
. If you prefer a video version of the essay, you can find the complete video
here
on Vimeo. YouTube does not appear to have the complete video.
Tin Can Forest is the collaborative artistic project of husband and wife team Pat Shewchuck and Marek Colek. They are the gloriously visual component of "What is a Witch" that helps bring Pam's words to life. Together they also publish books through Tin Can Forest Press. You can check out their work, buy their books and prints and keep up with what they are up to at their website
Tin Can Forest
.
Pam Grossman as Mente by Carrie Ann Baade


Pam's co-organizer of the Occult Humanities Conference at NYU is Professor Jesse Bransford. Professor Bransford is also a talented fine artist who specializes in the occult and you can check out his work at his
website
.
The episode talks briefly about artist and occultist Austin Osman Spare and here is Fulgur's
page
on the artist with a biography and links to selected essays about his magical work. Frater U. D. writes about Spare's and his theory of sigils in this
article
.
"What is a Witch" makes mention of plants used by witches both in the text and artwork. Harold Roth is a magical practitioner, alchemist, gardener and herbalist extraordinaire and he has a wonderful blog called
The Alchemist's Garden
and his online shop
Alchemy Works
. Harold also has a great new book out called
The Witching Herbs
that is a wonderful resource.
Leonora Carrington, Night of the 8th (1987)


In the episode, I speak briefly about two talent female artists and witches mentioned in "What is a Witch". These two artists are Leonora Carrington and Remedios Varo. You can check more information about Leonora and her work at this
website
dedicated to her legacy. You can check out the work of Remedios Varo
here
.
Gabriel Garcia Ochoa of Monash University wrote an interesting journal article on the feminist magical realism of Carrington's
"The Hearing Trumpet"
. Sarah Waters also wrote an excellent
essay
on Sylvia Townsend Warner's book "Lolly Willowes".
The episode's music is "Springish" by Gillicuddy and "The Girl With The Kaleidoscope Eyes, Pt. 2" by Pachyderm provided by Free Music Archive.
So farewell for now my lovelies! Be sure to join me on my next episode and follow the show on Twitter and Instagram where it is @thewytchfiles and The Wytch Files on Facebook.
If you have any feedback or review suggestions, please contact me!
If you're liking the show, please review it on iTunes, Stitcher and iHeart.